A restricted badge is visible only to you as the earner and is not publicly visible or shareable. This is a setting that has been determined by the organization that has issued you the badge.
You will be able to view your restricted badge(s) from your internal dashboard page only. Restricted badges will display with the "Private" icon next to them.

You do not need to take any type of action on this badge. The badge will automatically be accepted within your account and will never display on your public profile.
When clicking into a restricted badge, you will see that "this badge is restricted and cannot be shared."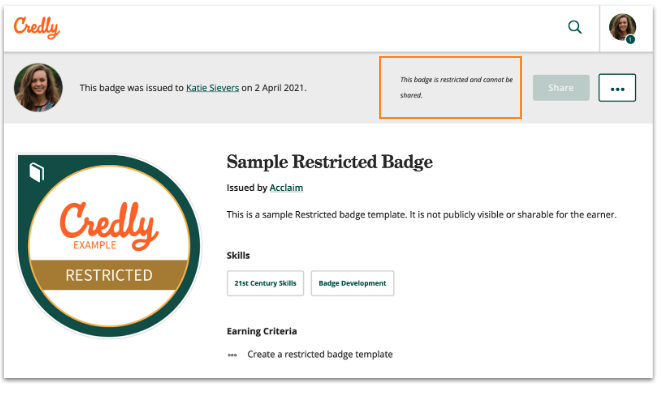 Note: If you have questions about your restricted badge, we recommend reaching out to the organization that issued you the badge. This is a setting that they have determined and they will be able to provide you with additional details about the badge.
If you do not know how to contact the issuing organization that provided you with this badge, please
submit a support request
and our team can provide you with contact information or reach out to the organization on your behalf.