Updated 06/06/2023
To share or add a badge to your LinkedIn profile, LinkedIn requires an authorization process that is required and standard for all third-party programs creating a connection between the two accounts.
LinkedIn predetermines this message based on the authorization scope required to share your badge. Credly will not post to LinkedIn without your initiation or permission. Credly will only add badges to your profile or post them to your newsfeed upon your request.
LinkedIn provides permissions in three levels. While we will never modify , delete posts, comments and reactions on your behalf, that level of access is required in order to provide the sharing services we offer, like posting badges to the news feed from your Credly account and adding your badges to your profile.
Here is an example of the message you will receive when connecting your Credly and LinkedIn accounts: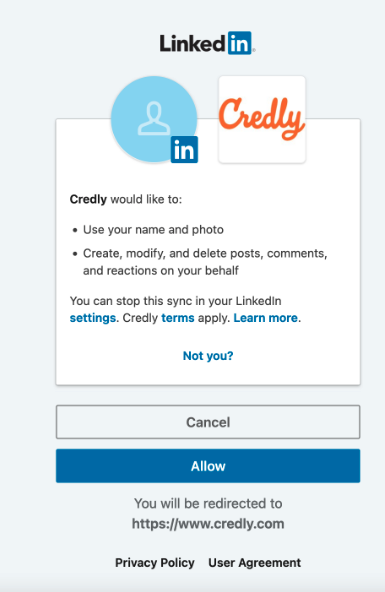 Please note: You can disconnect Credly access to your social media account after you have successfully shared your badge to your profile or feed. You can also manage Credly's connection through your privacy settings within your social media account.