Updated 06/06/2023
Credly's Acclaim platform is pleased to partner with ACE to bring you a seamless way to share your transcript with prospective learning institutions and organizations.
Through Credly, you can send a consolidated, competency-based transcript that signifies the credit recommendation for whatever courses you took through an ACE approved provider.

The process begins when you complete the course and the provider issues you a digital badge. You must accept the badge and create an account. If you are unsure of how to do that, please review How to Manage Your Digital Badge.
Note: If the training provider has not issued you a digital badge, you will need to work with them directly to have your badge issued before you can send a transcript. Please feel free to "Submit a request" through our Help Center and our support staff can provide you with the training providers contact information.
Once the badge is in your account, you can send your Transcript by accessing your Credly Dashboard.
From the dashboard select, the profile Icon drop-down menu in the upper right corner and select "Send Transcripts."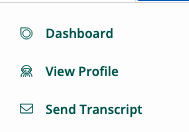 Selecting "Send Transcripts" will bring you to a page that has a couple of fields for you to fill in. You'll also notice that some fields are already pre-populated with information from your account. Fill in your date of birth, recipient's information, and a custom message.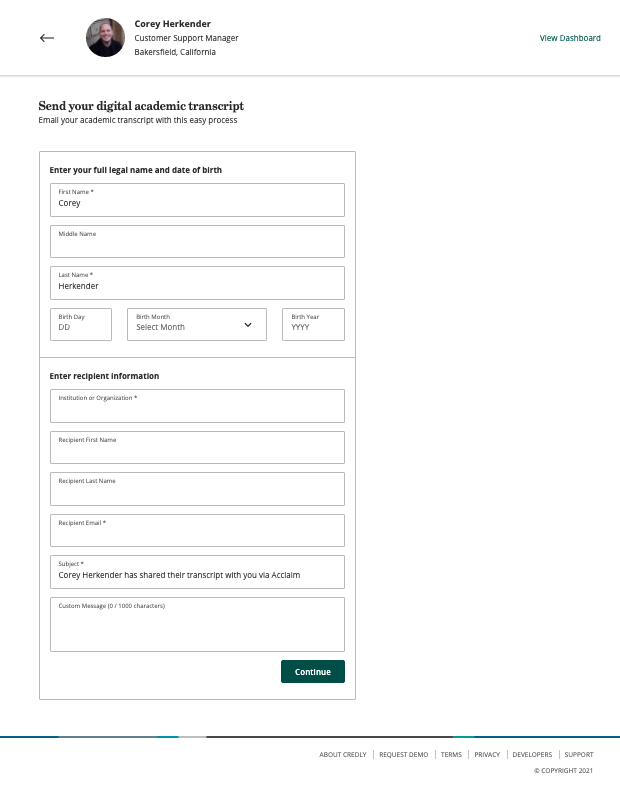 Selecting "Continue" will bring you to a confirmation page. On this page, you'll want to double-check the information you've filled out and the custom message. You'll also have the option to "View Transcript'' This will download your Transcript to your computer. So you can have a copy of it for yourself. If you need to edit any of the information before you send, simply select the back option.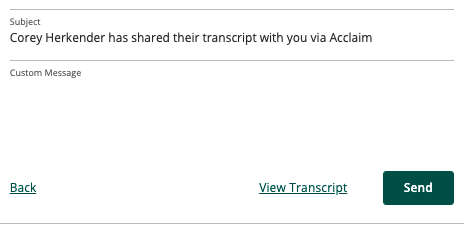 Once you're ready, select send.
Note: If you already have a transcript from ACE's CREDIT service with courses from other providers, you may need to contact the ACE Student Resource Center to get your former and newer accomplishments added to one transcript.
The ACE Student Resource Center can also help if you are having trouble communicating with an institution or if they have questions about the transcript you sent. You can email the Resource Center at credit@acenet.edu, and they are available to help Monday through Friday from 8:45 a.m. to 4:45 p.m..